English
1-12-3 Minamiedo, Matsuyama-city 〒790-0062
Foreigners have a 1000yen discount!
Stretching and adjusting 4,000 yen→3,000 yen (Tax included)
Muscle treatment and adjusting 4,000 yen→3,000 yen (Tax included)
Stretching, muscle treatment and adjusting
5,000 yen→4,000 yen (Tax included)
13:00-24:00 No scheduled holidays. Home visiting and pick-up service available.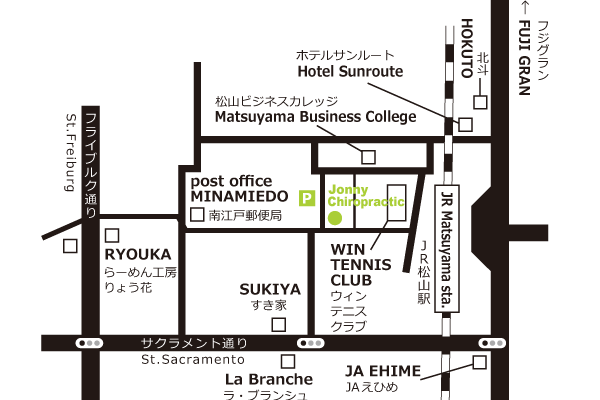 JONNY stands for…
J

oints' range of motion
With adjusting and stretching, we will help increase your joints' range of motion and flexibility. This will not only decrease your pain, but it will also help with better physical movement during sports activities, resulting in better performance in sports such as golf and baseball.
O
rganize your body functions
Spinal adjustment will normalize your nerve system. A healthy nerve system will help you have better sleep and better physical activity. Besides, stretching and muscle treatment will help with better blood circulation in your body.
N
ot only Japanese, but we also speak English
We speak in English, so please do not hesitate to ask any questions even if you do not speak Japanese. We want to provide a better, comfortable atmosphere by taking out the language barrier.
N
o pain from our treatment
We promise you no pain from our treatment. Please, do not fear us. We do not harm you.
Y
our better life is our objective
We want to help you to have better physical and mental health from our treatment. If you have anything you are worried about, please tell us; we are willing to help you.